Question of the Week:

How do you become an independent student?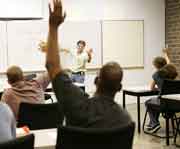 Just because a student is paying for all of his own expenses doesn't make him an independent student for financial aid purposes. The Free Application for Federal Student Aid (FAFSA) has very specific requirements to qualify as an independent student.
Students must answer "yes" to one or more of the following questions to become an independent student.  (The dates change each year.)
As you can see, simply living on your own and working a job instead of going to college will not qualify someone as an independent student. Even if the parents don't claim the student on their taxes, students will still have to report your parent's income as part of the FAFSA application.
It may be possible for students to change their status. Students will have to contact the financial aid office of the school they plan to attend which will make the decision about  dependency status. The school's decision is final and cannot be appealed to the U.S. Department of Education.
(Download PDF Version for a Limited Time)
Questions
FAQ College Money Issues
FAQ College Admissions Testing
FAQ College General
---